TRIM: Adabas and Natural Performance Monitor
Sites need a reliable, effective, and efficient way to monitor Adabas performance. Treehouse Software offers TRIM, a robust performance monitor for Adabas and Natural. Over 300 sites worldwide use TRIM.
TRIM Real-Time Monitor
The TRIM Real-Time Monitor provides hundreds of performance statistics on-line in real-time, showing:
Adabas activity for the past five minutes and the past five hours by several categories, including:
Command code

File number

Natural program

Natural application

User-ID

Session statistics, including:

Number of Adabas calls by thread, file, user, etc.

Number of calls for a specific file by command code

Worst performing commands

Adabas nucleus statistics

Nucleus ADARUN parameters

Adabas queues and tables

Warnings about queue and table fill-up conditions

Traces of performance problems and Adabas calls by user, job, program, etc.

Database Information (ADAREP, on-line, and enhanced)

SECURITRE performance statistics

Adabas and TRIM environment information
This information can help the site quickly find and eliminate performance problems. On-line help, PF-Keys, Direct Commands, and other features simplify TRIM usage.
Batch Slowdown
Prime time batch runs could impact on-line performance. TRIM includes a Batch Slowdown feature to enable the site to slow down certain batch jobs to improve on-line response times.
Performance Control and Security
TRIM includes a Dynamic Control and Security facility, which disallows inefficient commands, locks out file access, plugs Adabas passwords, and performs security checks. This facility prevents many performance problems before they happen.
Command and Protection Log Processing
TRIM also provides batch facilities for processing Adabas Command and Protection Logs. These facilities produce flat files or hardcopy output, which can assist in performance tuning, chargeback, and capacity planning.
Reduction of Command Log Data
ADABAS Command Logs can contain millions of detail records, one for each command issued. Most sites do not require this level of detail, but need to log only certain detail records, certain buffers, etc. TRIM Dynamic Logging makes this selective logging possible.
In addition, the TRIM PRESUM facility condenses Command Log data by pre-summarizing it in an Adabas user-exit. These PRESUM statistics are placed directly on the Command Log for later processing by the extensive TRIM batch reporting facilities.
TRIM Real-time Monitor Commands Per Minute Screen: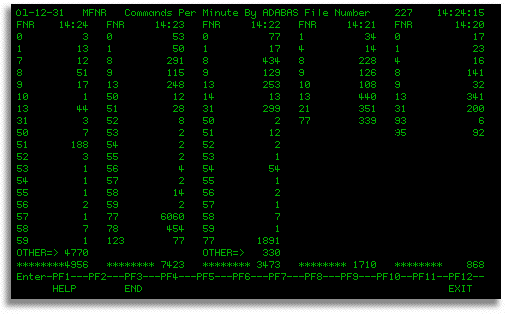 TRIM Real-time Monitor Commands Within File Screen: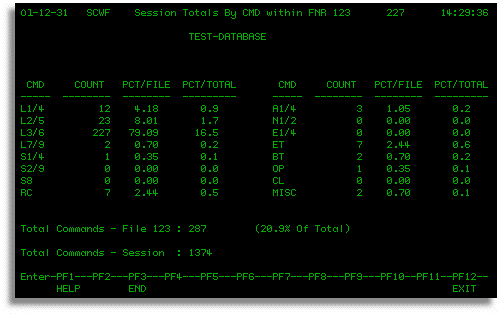 Compatibility and Requirements
TRIM requires only one hour to install, with no zaps to Adabas, Natural, or other software. TRIM is compatible with Adabas, Natural, and related products. TRIM operates under the MVS, VM, VSE, and BS2000 operating systems.
Downloads
Office Location
2605 Nicholson Road, Suite 1230
Sewickley, PA 15143
USA