Quick Product Links
---
Data Integration, Replication, and Migration
---
---
tcVISION - Replication to Big Data Targets, Technology, and Case Studies
Mainframe data integration has taken on more urgency in recent years as organizations seek to relocate mainframe workloads to lower-cost platforms, modernize mainframe applications and leverage analytics for customer insight and competitive advantage. These factors are driving adoption of Big Data as a strategic component in corporate technology architecture.
While tcVISION customers have been replicating to Big Data targets for several years now, the initial implementations involved use of tcVISION exits. Now tcVISION has implemented Big Data as a standard output platform.
tcVISION's support for Big Data as a target is fully integrated alongside traditional Linux/Unix/Windows (LUW) targets such as Oracle Database, IBM DB2 LUW, Software AG Adabas LUW, IBM Informix, Sybase, Microsoft SQL Server, PostgreSQL and ODBC.
tcVISION can deliver replicated data to Big Data targets through a variety of means: creating files, writing directly into Hadoop HDFS, and via streaming using Apache Kafka as the transport layer. Data can be packaged using standard JSON and CSV protocols.
tcVISION is ready to meet new Big Data requirements, technologies and challenges. Thanks to tcVISION's flexible architecture, support for new targets -- including specialty, NoSQL and analytic databases such as Exasol, IBM DB2 BLU and MongoDB --, transport layers and protocols is being continuously added, quickly and with minimal effort. With tcVISION, real-time Big Data integration can embrace both mainframe (IBM DB2, IMS/DB, DL/1, Software AG Adabas, CA IDMS, CA Datacom and VSAM) and LUW (IBM DB2 LUW, Oracle, IBM Informix, Sybase, Microsoft SQL Server, PostgreSQL, Software AG Adabas LUW) sources.
Features
The tcVISION integration platform consists of a variety of state-of-the-art technology components that cover far more than an ETL process:
Real-time data synchronization becomes a "Single Step Operation" with tcVISION.
No additional middleware is required.
By focusing on changed data, data exchange is reduced to the necessary minimum, resulting in lower costs for the cross-system integration.
tcVISION can use backup and recovery files (e.g., image copies, log files, etc.) as replication sources. Live production data does not need to be touched.
Large data volumes are transferred quickly and efficiently, resulting in minimal mainframe impact.
tcVISION's integrated Repository makes data mappings and replication processing transparent and manageable.
Mainframe know-how is not required for implementing mainframe replication scnearios.
tcVISION Highlights
Rule engine to transform source data into target-compliant format or user-specific processing via supplied APIs.
Staging concept supports the offloading of changed data in "Raw Format" to LUW platforms, minimizing mainframe resource consumption. Transformation and preparation of the data for the target system can be fully handled on LUW systems.
No intermediate staging of data is required between the source and the Big Data target.
Exchange of large volumes of data between a the mainframe and Big Data platforms can be parallelized to minimize latency.
Comprehensive control and monitoring capabilities manage data exchange end to end.
Benefits
With tcVISION, data synchronization between mainframe and Big Data pays off:
Real-time replication of mainframe data to Big Data enables real-time analytics, offloading mainframe application functionality (e.g., online banking queries, e-Government, etc.) to Big Data with data synchronized between the platforms.
Replication costs are minimized as only changes are exchanged.
Mainframe resource usage and costs are minimized.
Data exchange processes can be designed, deployed and maintained with tcVISION without mainframe knowledge, providing cost savings, quicker delivery and project autonomy in Big Data initiatives.
Reporting and analytics applications are more comprehensive and valuable when mainframe data can be included in the Big Data platform.
tcVISION Technology
tcVISION considerably simplifies mainframe data exchange processes. The structure of the existing mainframe data is analyzed by tcVISION processors, then automatically mapped to a target data mapping. The data mapping information is presented in a user-friendly and transparent format - even for users with no mainframe knowledge.
The mapping information is saved in a meta data repository hosted on a relational database, and can easily be made available to other applications. The Windows-based Control Board of tcVISION provides an easy-to-use facility to administer the data flow. tcVISION provides a variety of interfaces to allow seamless integration with ETL or EAI solutions.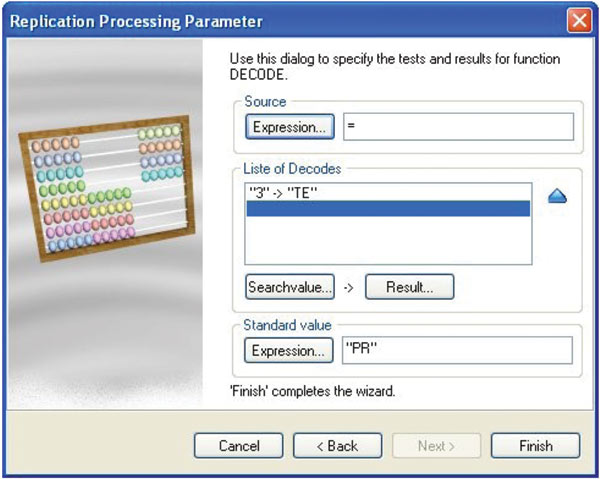 tcVISION offers different CDC methods to identify mainframe data. The change capture method deployed depends on the source database (DB2, VSAM, DL/1, IMS/DB, ADABAS, CA-IDMS, DATACOM/DB, SQL Server, Oracle), the data volume, the volume of changed data and the required currency of the information. Changes are automatically transferred to the targets in time intervals or in real time by tcVISION data change publishing facilities.
Read More: tcVISION - Supported Sources and Targets

Read More: tcVISION - Mainframe-to-Amazon Web Services (AWS) Data Replication
tcACCESS and tcVISION Customer Case Studies
Element Fleet Management: tcVISION Real-time, Bi-directional Synchronization Between IBM Mainframe Datacom and PostgreSQL
Suddeutsche Krankenversicherung (SDK): tcVISION for synchronization between VSAM and Microsoft SQL Server
BAWAG P.S.K.: tcVISION for real-time replication to Apache Hadoop
Bishopric of Mainz: tcVISION connects ADABAS/C with Windows MS-SQLServer
Vereinigte Informationssysteme Tierhaltung w.V.: Bidirectional ADABAS (z/OS)-to-Oracle (LINUX) with tcACCESS and tcVISION
Blum: Bidirectional tcVISION v4 IMS and DB2 z/OS, and DB2 z/OS and DB2 LUW
BRUNATA: Data Integrity Between Different Database Worlds (DL/I, DB2) with tcACCES and tcVISION
EADS: tcACCESS and tcVISION allow Mainframe IMS to SQL Server
Fendt Tractors: NATURAL applications use the tcACCESS SQL-interface to access
DB2-tables on SAP R/3
Mabanaft: VSE - VSAM (Realtime CICS & Batch)
RDC Datacentrum: Bidirectional synchronization between CA-IDMS/DB and
DB2/UDB and MS-SQLServer
Basler Versicherungen: tcVISION replicates DB2 z/OS to DB2 on Windows
Osterreichische Wertpapierdaten Service GmbH (OWS): tcVISION replicates
DB2 z/OS to Intel-based Linux System
HANS KOLB Wellpappe: tcACCESS connects Mainframe CICS to Windows and LINUX

City of Leipzig: tcACCESS connects Mainframe IMS to Windows and JAVA Resources
---
Download
tcVISION Mainframe-to-AWS Data Replication Fact Sheet