tcVISION - Comprehensive Enterprise Mainframe-to-Amazon Web Services (AWS) Data Replication
As a Technology Partner in the AWS Partner Network (APN), Treehouse Software understands the necessity of having a straightforward solution for enhancing business agility. Treehouse provides a proven Mainframe-to-AWS data replication solution, and customers benefit from modernizing their data on the flexible, scalable, pay-as-you-go offering on AWS.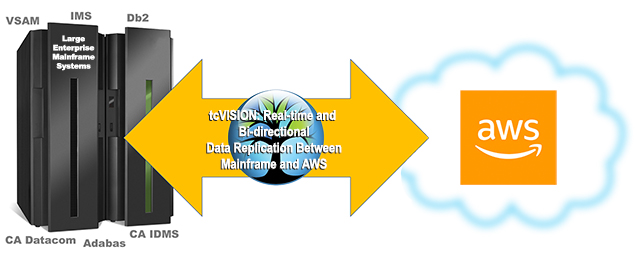 tcVISION is a powerful and comprehensive solution for real-time, bi-directional replication of mainframe data to AWS. tcVISION's GUI modeling and mapping, and ease of migrating data to AWS makes it an ideal choice for modernizing large mainframe environments. Additionally, tcVISION can synchronize mission critical data from a mainframe system on AWS. Real-time, bi-directional data synchronization enables changes on either system to be reflected on the other system (e.g., a change to a PostgreSQL table on AWS is reflected on the mainframe database). This allows businesses to modernize an application on AWS without disrupting the existing critical work on the legacy system.
Video - How does tcVISION replicate mainframe data to AWS?
tcVISION supports AWS Relational Database Service (RDS) databases, such as Aurora, PostgreSQL, MySQL, SQL Server, and Maria DB as targets, in addition to traditional Linux/Unix/Windows (LUW) targets such as Oracle, IBM Db2 LUW, Software AG Adabas LUW, IBM Informix, Sybase, Microsoft SQL Server, PostgreSQL, and ODBC.
tcVISION on-premises acquires large amounts of data in bulk or via change data capture methods, including in real time, from virtually any IBM mainframe data source (Software AG Adabas, IBM Db2, IBM VSAM, IBM IMS/DB, CA IDMS, CA Datacom, even sequential files), and transforms and delivers it to the AWS Cloud.
---


Try Out tcVISION Amazon Machine Images (AMIs) on the AWS Marketplace!
tcVISION Technology
tcVISION considerably simplifies mainframe data exchange processes. The structure of the existing mainframe data is analyzed by tcVISION processors, then automatically mapped to a target data mapping. The data mapping information is presented in a user-friendly and transparent format - even for users with no mainframe knowledge.
The mapping information is saved in a meta data repository hosted on a relational database, and can easily be made available to other applications. The Windows-based Control Board of tcVISION provides an easy-to-use facility to administer the data flow. tcVISION provides a variety of interfaces to allow seamless integration with ETL or EAI solutions.
Other tcVISION Resources
Try the tcVISION Amazon Machine Image (AMI) on the AWs Marketplace
Read More: tcVISION - Supported Sources and Targets

Read More: tcVISION - Replication to Big Data Targets, Technology, Benefits, and Case Studies
View tcVISION Instructional Videos