Quick Product Links
---
Data Integration, Replication, and Migration
---
Application Modernization and Portfolio Management
---
Business Intelligence and Analytics
---
---
Speed IBM Mainframe Modernization Projects with tcACCESS
Transparent integration of mainframe data sources and mainframe programs into Open System applications using industry standards
IT departments with IBM mainframe infrastructures are facing particular challenges. They have to consolidate legacy, client/server, Web and SOA technologies to create an efficient multi-platform information and communication environment.
tcACCESS is a comprehensive software solution that enables two-way integration between IBM mainframe systems and client/server, Web and SOA technologies–without the need for mainframe knowledge or programming effort. tcACCESS is a proven platform that facilitates SQL-based integration of mainframe data sources and programs into open-systems and Windows applications using industry standards such as SQL, ODBC, JDBC, and .NET. SQL queries to access mainframe data can be easily created using drag and drop techniques—no programming required.
The results of queries can be immediately presented and viewed (i.e., in Excel, Microsoft Access, etc.). Direct ODBC or JDBC access to mainframe data from any client/server or Web application can be easily implemented; it is necessary only to assign the tcACCESS driver to the application.
The tcACCESS Solution
tcACCESS is a powerful integration platform (Mainframe Software, Workstation software, Middleware) for users of IBM mainframes. tcACCESS allows a transparent integration of mainframe data sources and mainframe programs into Open System applications using industry standards like SQL, ODBC, JDBC, .NET.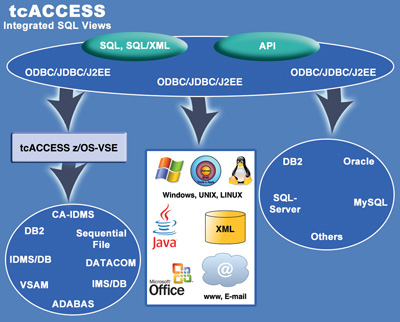 Supported Environments
IBM-Mainframe:
IBM z/OS, OS/390, MVS, VSE, z/VSE, VM
Client/Server environment:
MS-Windows, HP-UX, AIX, SOLARIS Intel and Solaris SPARC, Linux, All platforms supporting Java
Supported connectivity types:
TCP/IP, TN3270, SNA, LU6.2 (APPC), and LU2 (3270 terminal emulation). WebSphere MQ (optional)
---
Download